The Bokitta Story
'BOKITTA™" is a contemporary hijab and clothing brand for modern and practical Muslim women.
Inspired by hijab-wearing women always on the go, Bokitta was founded in Beirut, Lebanon in autumn of 2009, and became the first clothing brand to release the first Instant Pinless Hijab which quickly gained popularity internationally.
After its release of the Voila design in 2010, Bokitta was granted Patent by the World Intellectual Property Organization (WIPO), recognized in 144 countries around the world.
From the term "Bouquet", came the brand " BOKITTA" like a bouquet of flowers it represents the modern Muslim women: Sophisticated yet full of fun and vibrant colors.
Bokitta was brought to life with having the daily lifestyle and regular activities of the modern hijab-wearing women in mind.
Every Hijabi knows the struggle of keeping their hijabs in place by using pins in maintaining it's sophisticated look instantly without sacrificing style for comfort.
The team is continuously on the hunt for new fabrics and materials to create a new hijab design perfect for all seasons and occasions suitable for all age groups.
Bokitta Singapore is a licensed franchisee for Bokitta.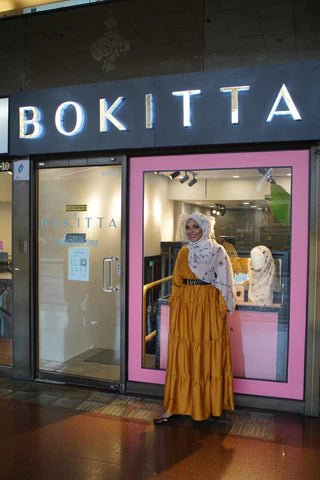 Visit Our Retail Store
We are located at Golden Landmark #01-09.
Monday - Sunday: 11am - 7pm
Open on Public Holidays: 11am-7pm
View Map